Welcome to the second issue of the Theddlethorpe GDF Working Group Newsletter
Understanding the views of local people is a fundamental task for the Working Group. During the past two months, we've held the first programme of engagement events in some local communities. Getting out and meeting people has been a valuable exercise, as the Working Group starts to understand what people think, what they understand and on what topics they want to know more.
The events have been well attended, with more than 250 people coming along overall, and most people spending time in discussions with the Working Group team, while others chose to look at the information or perhaps take away a leaflet.
A geological disposal facility is clearly not to everyone's liking. There are those who have already decided that they don't want a GDF. I've met with people who are against this proposal, and fully respect that position. I've also met people who are interested to find out more and some who are in favour, even at this early stage. There are some key themes emerging from these early discussions. Some people want to know if the value of their house will be affected. Others want to understand how construction and operation would impact on them, while some want to know about the types of jobs that would be created and if local people would be employed.
Raising these issues helps the Working Group better understand what information needs to be provided. We don't always have the answers immediately, so we're continuously working to update people, and clarifying facts. Our website will be updated regularly, and our contact centre team are available to deal with individual requests.
Facts are crucial to help anyone make an informed decision, so in this newsletter we're answering questions, but also providing some clarity on topics where several people have made incorrect statements during recent meetings. We're not here to persuade, we're here to ensure that people have access to accurate information, regardless of their opinion about GDF.
One frequent question is about safety. The GDF project, like the nuclear industry, is subject to strict regulatory control, so I have asked the Environment Agency and the Office for Nuclear Regulation to provide details (in this newsletter) on how they are involved.
Finally, the Working Group has started another of its tasks, which is to identify a 'Search Area'. This is the geographical area within which Radioactive Waste Management (RWM) would seek to identify potentially suitable sites to host a GDF. It's also the area around which a Community Partnership could be formed and would cover an area of one or more electoral wards. We expect to provide an update on this in the next issue of the newsletter.
Once again, I would like to thank everyone who has been in touch with the Working Group. We're continuing to deal with enquiries and are planning some more events. Look out for details on our Get Involved page.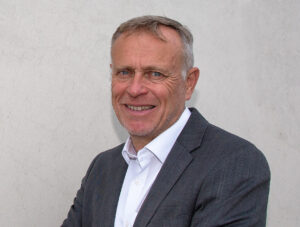 Jon Collins
Independent Chair, Theddlethorpe GDF working Group
Introducing Working Group members
Councillor Martin Hill, Leader, Lincolnshire County Council
"Lincolnshire County Council's executive made the decision to get involved in the Working Group, recognising that ultimately it will be a community decision as to whether a GDF should be built. The council's involvement is therefore to make sure that residents and businesses have access to information they need, and to help reflect their views. As the Working Group progresses, I will be making sure that elected members at the council are given a fair assessment of the discussions about what a GDF could mean for the coast of Lincolnshire, so they can be well-informed when talking to their communities.
"This is a really early stage and whether the project proceeds will be up to local people, but it's important that we are in the discussions at the beginning to ensure openness and transparency throughout".
Councillor Craig Leyland, East Lindsey District Council Leader
"As a Council we took the decision to become involved in RWM's Working Group to ensure that our residents know that they will be represented and that their questions and concerns around these proposals will be fully answered.
"As Leader of East Lindsey District Council, I have been appointed as representative on the Working Group, and in that role, I'll do the utmost that I can to make sure that there's a full transfer of information to and from RWM and our residents about any concerns and issues that surround this proposal.
"We know that this is a generational decision that will impact on the area for hundreds, if not thousands of years to come, and the ultimate decision will belong to the local residents. We are assured of that and East Lindsey District Council will fully support that decision, whatever it may be.
"However, in order for that decision to be made, residents need to be well informed. As the representative on the Working Group, I would like to assure residents of my diligence in that matter and my commitment that I will do all that I can to make sure that your questions are answered.
"It's going to be a long process, and I anticipate there'll be many challenges ahead, but I look forward to working with partners on the Working Group and our local communities as it moves forwards."
Carl Richardson, Theddlethorpe Parish Council
"I was elected by my fellow Parish Councillors to represent Theddlethorpe Parish Council on the Working Group. Those who have served as a parish councillor will empathise that no one does the job for their own needs, but only to benefit the communities in which they live.
"As the former Theddlethorpe Gas Terminal was initially identified as an area of interest, those locally know I have a long history with the site, working with critical infrastructures, groups and organisations who may become involved in stakeholder engagement. Hopefully I will bring some experience from a different field into this complex one, representing Theddlethorpe.
"During this very early stage within the GDF process it is clear that the RWM proposals have the capability of changing our children, grandchildren and their children's future lives. That is why it is so important that the community considers all the information and has the final say on what the future may or may not will look like.
"Ensuring that local knowledge is known and understood, and by having a local voice on the Working Group, will aid open and transparent communication which is so important and essential to us all".
Victoria McCusker, Independent Facilitator (Facilitating Change (UK) Ltd)
Tori McCusker is the Theddlethorpe Working Group's Independent Facilitator.  She is a Chartered Town Planner (MRTPI) with an MSc in Marketing. She applies her intuitive communication skills to facilitate constructive discussions between stakeholders across all backgrounds.
Tori's role in the Working Group is to help members of the group to work together better, to understand each other's objectives and identify synergies, and to plan how to achieve these objectives through meetings, workshops and discussions. Tori brings a particular flair for motivating and inspiring teams by engendering common ownership with personal accountability.  An important aspect of her role is that she is independent and does not take a particular position in any of the working group's discussions. She also does not have a vote in any group decision-making.
Virtual exhibition launched to show how a Geological Disposal Facility (GDF) works
An interactive virtual exhibition has been launched to show how a GDF for the disposal UK's higher activity radioactive waste, works.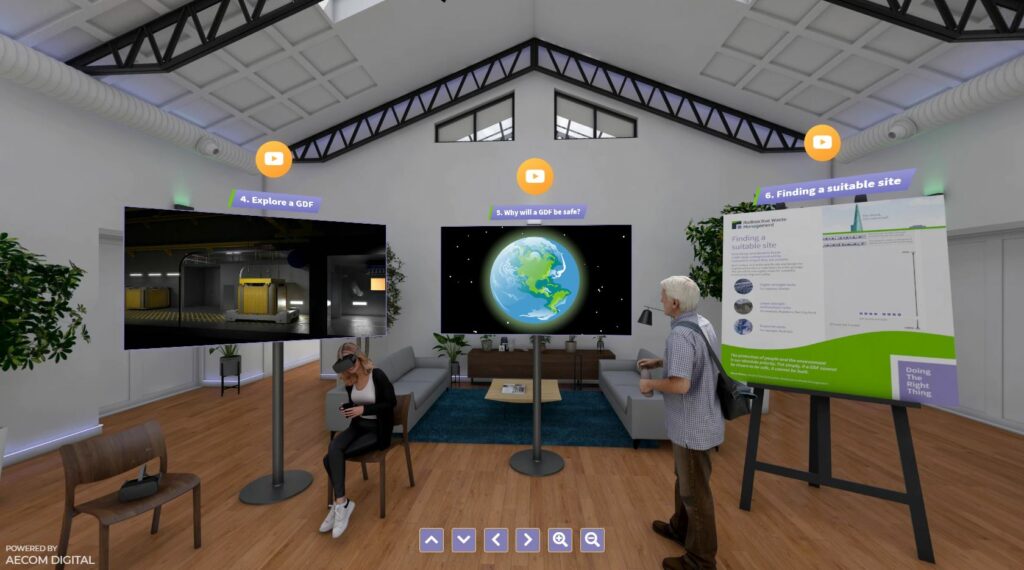 The virtual experience has been developed to help people get involved in local discussions about the potential for building a GDF in the area. Its launch follows and builds on a programme of local face-to-face engagement events held over recent weeks. The virtual exhibition looks at what a GDF is, brings to life what a facility could look like. Video animations also take visitors on a virtually journey, following packages of waste as they are taken deep underground on the GDF's own rail system, before being safely disposed of in highly engineered vaults. The Virtual Exhibition can be accessed via our Get Involved page.
Regulating geological disposal
The Environment Agency and the Office for Nuclear Regulation are working together to make sure that any geological disposal facility (GDF) in England will meet their requirements for protecting people and the environment when it is being developed, while it is operating and after it has closed.
Both organisations have offered support to the Theddlethorpe GDF Working Group to explain how their regulation and processes will help ensure protection of people and the environment now and in the future. Regulators can attend meetings and events, provide information about regulation of a GDF and comment on matters concerning environmental protection, safety, security and transport of radioactive materials.
The regulators aren't members of this GDF Working Group (nor are they members of Copeland or Allerdale Working Groups) and will not be involved in its decision-making, or in decisions to select sites for further consideration. They do not regulate the site selection process itself.
Read on below to find out more from the regulators who will be supporting the Theddlethorpe GDF Working Group, Eddie Osondu (Environment Agency) and Dr Peter Howden (Office for Nuclear Regulation). [Photos with names]
Environment Agency
Eddie, please tell us about the work of the Environment Agency?
"The Environment Agency has over 10,000 staff working from offices across England. We have an office in Lincoln and around 400 staff working in the Lincolnshire and Northamptonshire Area. We create better places for people, wildlife and the environment. We put the climate emergency at the heart of everything we do and help society adapt to environmental challenges such as flooding, drought, sea level rise and coastal change. We improve and protect the quality of our air, land and water by tackling pollution. We work with businesses to help them comply with environmental regulations and believe a healthy and diverse environment enhances people's lives and contributes to sustainable and resilient economic growth.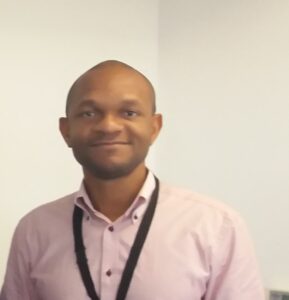 What's your role regulating the nuclear industry?
"The Environment Agency is the independent environmental regulator for the nuclear industry in England. We make sure that nuclear operators and the sites they operate meet high standards of environmental protection.
"Operators of nuclear sites in England must have a permit for radioactive substances activities from the Environment Agency. The permits we issue contain specific conditions that they must comply with at all times. We set limits on what they are allowed to discharge into the environment, including a requirement to minimise the volume of radioactive waste disposed of by transfer to other sites.
"Permit conditions are designed to make sure that the operators' activities do not harm people or the environment. We carry out checks to make sure that operators do not discharge radioactivity above the limits specified in their environmental permits.
"We also regulate other activities on nuclear licensed sites that do not involve radioactivity including: combustion and water discharge activities, conventional waste management, COMAH (Control of Major Accident Hazards) and compliance with F-Gas Regulations".
How will your radioactive waste specialists regulate a GDF?
"I work in the Environment Agency's Nuclear Regulation Group which includes over 70 specialists with expertise in the management and disposal of radioactive waste and radioactive substances regulation. As well as being your Theddlethorpe contact, I regulate the Dungeness B nuclear power station in Kent.
"The Environment Agency is responsible for making sure that the high standards we have set to protect people and the environment are met by RWM when implementing geological disposal. This includes during the design, development, construction, operation and closure stages. We will only grant an environmental permit for a GDF if it demonstrated at each stage that our high standards will be met. Our regulation would begin if RWM decides there is a need for surface-based investigations such as borehole drilling.
"You can learn more about our regulatory advice and scrutiny of RWM's work in our annual report which is published each year  in November.
"I'm ready to support the Theddlethorpe GDF Working Group and very interested in meeting the local community at upcoming events. If you want to drop in, I can talk with you about how we would regulate a geological disposal facility and how we want to ensure protection of people and the environment now and in the future."
Office for Nuclear Regulation
The Office for Nuclear Regulation (ONR) is the independent regulator of nuclear safety and security on 36 licensed nuclear sites in Great Britain. The ONR also regulates the transport of radioactive materials and ensures the UK's international nuclear safeguarding obligations are met. Nuclear safeguards are measures to verify that countries do not use nuclear materials from civil nuclear programmes for non-peaceful purposes.
With just over 650 staff and specialists in disciplines as varied as chemical engineering to nuclear physics, the ONR is a well-respected and trusted regulator, with a proven track record of world-class nuclear regulation.
Dr Peter Howden who is one of ONR's specialist inspectors explains more about ONR's role in regulating a future Geological Disposal Facility (GDF):
"We do not regulate the site selection process for a future GDF, nor do we have a decision-making role in the process for identifying and selecting sites for investigation. Our regulatory role begins when a preferred site has been identified and a nuclear site licence application has been submitted.
"The site licensing process is a rigorous process and will involve a detailed examination of a whole range of different issues by our specialist inspectors.
"Our role is to protect society by ensuring the nuclear industry operates safely and securely, and we will only issue a nuclear site licence for the construction of a GDF to commence if we are satisfied the facility will be safe and secure."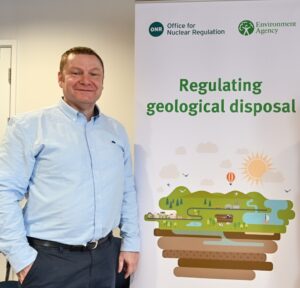 Where can I get more information about the regulators?
A short animation about the regulators' role https://youtu.be/HY9gcwhCDB4
Read about the regulators' roles in regulating a future GDF
Email the Environment Agency and sign up for an ebulletin: nuclear@environment-agency.gov.uk
Email ONR: contact@onr.gov.uk
Your questions & concerns
Since the Working Group was formed, and following our first round of face-to-face events, we have continued to hear a range of questions and concerns. There have also been several topics where people have made statements which are incorrect. We would like to address these and present the facts. You can also find a larger selection of questions and answers on our website, which will be updated regularly.
Wildlife – how will local wildlife be impacted and protected? Large parts of the East Lindsey Area are protected due to their nature conservation interest and RWM understands and fully supports that these protected areas need to be respected. RWM would seek to work with the local authorities, the community, and relevant stakeholders, to understand the natural environment in greater detail and consider the implications of delivering a GDF in line with relevant legislation and policy. There may be opportunities to provide environmental enhancements as part of the delivery of a GDF.
Why does the GDF process take so many years? Because with something like a GDF, it's only right that we proceed carefully. It is expected to take 10 to 15 years to identify a suitable site, and around 10 years of initial construction before a GDF can start to receive waste. However, the process is driven largely by discussions with communities and the time needed to carry out detailed investigations at the site. Therefore, this date must not be seen as fixed, but instead as a reasonable basis for planning based on current assumptions and planning timescales.
What is the Test of Public Support? Government policy on Working with Communities is clear that, before the final decision is made on a preferred site, there must be a Test of Public Support to determine whether the local community is willing to host a GDF.  The elected principal local authorities (Lincolnshire Council Council, and/or East Lindsey District Council) would decide upon the timing of any Test of Public support. The mechanism to be used would be agreed by the Community Partnership.
If the result is not positive, RWM would not be able to proceed with the statutory licensing, environmental permitting and development consent application processes to build a GDF at the site.
If there's an accident at the surface facility, what are the safety measures?
Like any industrial site, the GDF would have its own emergency arrangements and safety procedures to protect people and the environment. These arrangements and procedures have to satisfy the nuclear regulators and are essential if RWM is to gain a nuclear site licence. Without this, a GDF wouldn't be built.
The surface facility is essentially a transit facility – waste arrives, then is taken deep underground, so it would be different to the arrangements for a power station site operating nuclear reactors.
What would be the impact of flooding how will you manage it?
Large areas of coastal East Lindsey are currently subject to significant flood risk and increased risks from predicted sea level rise as a result of climate change. The development of a GDF would be subject to Flood Risk Assessment considering worst case climate change predictions for sea level rise. The design of the GDF would incorporate appropriate mitigation measures to protect against flood risk to the GDF and to ensure there were no adverse impacts on flood risks elsewhere as a result of the project.
Fact checker
During recent engagement events a number of visitors have made statements about the GDF which are factually incorrect. For people in the area to make an informed decision, the Working Group has taken these comments on board, looked into the detail and aims to clarify such points. Here are some of the common misconceptions, with clarifications below.
"There will be an exclusion zone of 3km needed around the site – people won't be able to use the beach"
There will be no 'exclusion zone'. Like any nuclear licenced site, there would be a security fence around a GDF surface facility, but no 'exclusion zone' beyond the site boundary as has been claimed by some people.  The former gas terminal site doesn't impact upon access to the beach, so if that site was to be considered for re-use access to the beach would not be prevented.
"The GDF will take nuclear waste from other countries".
GDF is for UK owned radioactive wastes only.
"Community Investment Funding goes to the Council, not local people".
No, it doesn't. The Community Investment Funding cannot be used by councils to fill shortfalls in their budgets. It is paid to communities once a Community Partnership is established.  At this point, investment funding of up to £1 million per community per year will be available, rising to up to £2.5 million per community, per year, for communities when deep investigative boreholes take place. This funding is available, to those communities within the identified 'Search Area' around which the Community Partnership would be formed. The Search Area cannot be smaller than an electoral ward boundary, therefore people and organisations living within the Search Area can submit applications for funding of local projects. If communities make use of the funding available, it does not commit them to hosting a GDF. Also, regardless of where the GDF is located, this money does not have to paid back.
"The area has already determined as unsuitable by RWM due to presence of hydrocarbons underground".
The presence of hydrocarbons and coal in East Lincolnshire do not make the whole of this area unsuitable. In line with International Guidance and UK Regulator requirements, RWM will undertake a detailed assessment of the risk of future human intrusion for any specific area being considered. This will consider the specific location, depth and nature of these potential resources and assess the likelihood and potential consequences of any future attempts to abstract them.