Welcome to the fifth issue of the GDF Working Group newsletter as we look ahead to a Community Partnership
Since the last issue and the announcement of the Search Area, we have started to focus on the next stage of the work and answer the question; what would a Community Partnership look like?
The working group held a workshop to explore this in more detail and to discuss the options in terms of structure, recruitment, and potential members. This took place on 25 February, and I'm pleased to say that this was a productive session where many ideas were suggested and considered carefully by those around the table. The outcomes of this workshop will be taken to the next Working Group meeting.
The forming of a Community Partnership, that reflects the local communities will continue the work we have started and enable further work and discussions to happen and the investment to begin.
I recently wrote to people living within the Search Area of Withern & Theddlethorpe, and Mablethorpe, inviting them to attend one of our public engagement events taking place in the next few weeks and I continue to encourage everyone to take this opportunity.
People can keep up with the work of the group by signing up to receive this regular newsletter sent directly to them via email and there's also a virtual exhibition on our website. Please encourage your friends and neighbours to sign up to this if they are interested and want to be involved.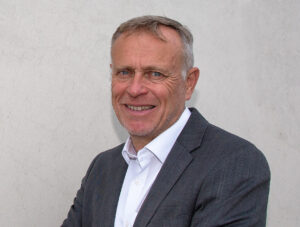 Jon Collins
Independent Chair of the Theddlethorpe GDF Working Group
Continuing the conversations at our engagement events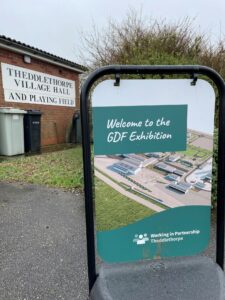 Thank you to the local people who came along to Theddlethorpe Village Hall and Mablethorpe Community Hall to speak to us. There was a good turnout at our first two events, and we had plenty of questions and lots of discussions with people who were keen to share their thoughts with us and find out more.
We were pleased to add two extra event dates to the programme, and this gives people more opportunities to drop in and speak to us. These have been added to the list below and will take place in Withern Village Hall and Great Carlton Village Hall.
Everyone is welcome to attend any of these events and they can just drop in and join us. There's no need to book – you can turn up when suits you, during the times we are present at local venues.
We are keen to meet you and introduce ourselves and this is only the beginning of a conversation with local communities over many years, about what's right for the area.
Our team will be in Trusthorpe Village Hall and then in Theddlethorpe Village Hall for our next events. Please share these dates and times below with others and we look forward to meeting more people.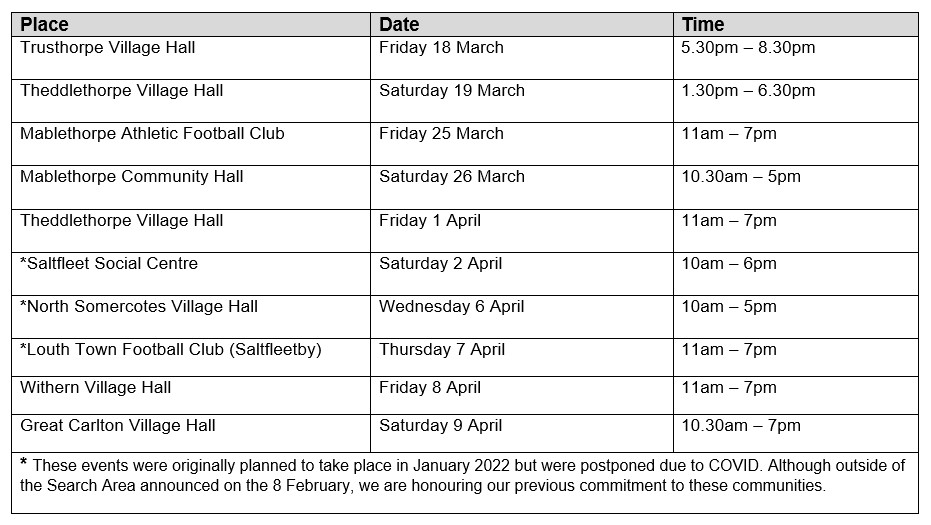 Engagement is an important part of what we do
We are undertaking a busy programme of events in the next few weeks and engaging with local communities is a vital part of the GDF project and firmly underpins the work involved in finding a willing community. Someone who understands this well is Sharon Darley, our Community Engagement Coordinator.
When you come along to any of our events you will have the chance to speak to Sharon and her colleagues, and here she explains more about why she enjoys her work in engagement and what you can expect.
Sharon has over 20 years' experience as an engagement worker and engaging with people of all ages and backgrounds, whilst working for a range of different organisations including the RSPCA, the Police, and in her community work with not-for-profit organisations.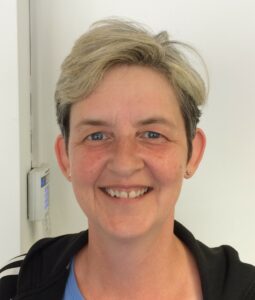 "I believe that everybody should have a voice, especially when it is about something happening in their local area, and our role in engagement work is to empower people and give them the information to enable them to make an informed choice."
Born into a hardworking farming family, Sharon moved back to continue her career in the region after living and working in London for many years. She understands the importance of what the GDF project is doing in providing a way to deal with the radioactive waste permanently and safely, and she explained her motivation for being involved.
"We have to start to do something now with the waste we currently have created through our use of nuclear energy and not leave it for the future generations to manage. I feel that I'm doing something worthwhile and making sure that people are involved and have their say."
From the events carried out so far, Sharon and the team are already beginning to hear a wide range of views on the GDF project, with views and opinions being both for and against. They plan to get involved in different types of events and activity in the future and work closely with local communities and groups to explore ways to meet and discuss the GDF with people.
Sharon expressed her thanks to people involved so far. "I want to say a big thank you to all the village halls and venues that have helped us organise the exhibition events and allowed us access to the facilities to meet people face to face. And thanks also to those people who have turned up and taken an interest in what we are doing."
"I'm looking forward to meeting more people in the weeks and months ahead and being able to listen and understand the concerns and questions and be able to respond with the facts and useful information."
Frequently Asked Questions (FAQs)
Since we started conversations with people, we have received many questions, and these have formed useful Frequently Asked Questions (FAQs) that others can refer to when wanting to know the same on a shared area of concern. These are being constantly added to and a few questions asked at our events recently are answered here.
If you have a question that isn't covered then please come along to an event near you and we will be happy to hear your thoughts and discuss this further with you.
Will earthquakes affect the GDF?
A GDF will be constructed between 200 metres and 1000 metres underground, or in deep geology under the seabed. At this depth the waste will be protected from natural events and processes such as earthquakes, tsunamis and long-term environmental changes such as future ice ages or sea level rise.
Will building the GDF cause earthquakes?
NWS does not expect that deep underground drilling, construction or operation associated with a GDF will cause earthquakes. There may be localised low level micro-seismic activity deep underground, but it is highly unlikely that this will be felt on the surface and much less cause any damage to surface buildings or foundations.
What is the capacity of the GDF, and will it be sealed eventually?
The underground part of a GDF may cover an area of up to 20 km2. Our planning is based on an assumption of around 750,000 cubic metres of packaged waste for disposal in a GDF. After all the waste has been placed in the facility and the tunnels and vaults backfilled with concrete or other barrier materials, the access tunnels and shafts will be permanently sealed.
How do you know it will be safe for over 100,000 years?
Scientists and other authorities all over the world agree that geological disposal is the safest way to deal with 'higher-activity' radioactive waste (the most radioactive kind) for the long term. This international consensus comes after decades of scientific research.
The independent regulators, including the Office for Nuclear Regulation and the Environment Agency, will review the designs and safety cases for a GDF, the proposed site, and the science that informs them, to make sure it protects people and the environment both during operation and for the long-term after closure. A GDF will only be built if the independent regulators are satisfied.
For further information
Minutes of all Theddlethorpe GDF Working Group meetings can be found on the Resources page of our website under Meeting Minutes.